While Grandma and Grandpa were visiting in October, they wanted to take the kids to Build-A-Bear. We've walked past it in the mall a million times, at least, but never ventured in, so it was a totally new experience for the kids and me!
Walking in:
Checking out the animal choices.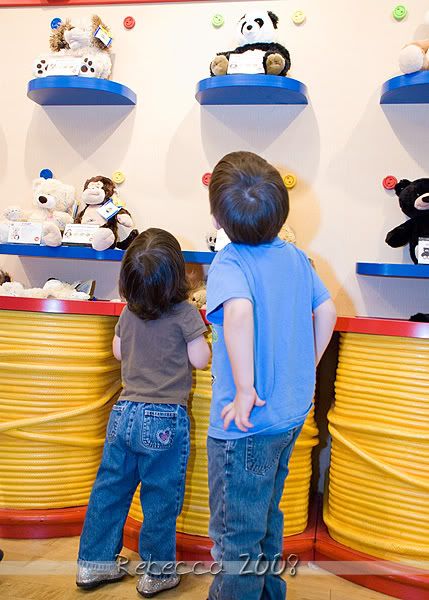 Choices made!
Picking out a heart for each one.
Giving them kisses.
Grandma kissed each one, too!
Pushing the pedal of the stuffing machine. Keeley actually HATED this part - it scared her. :(
All stuffed!
Time for a bath!
Then, on to pick outfits!
Keeley's kitty got a pretty butterfly dress!
Next, filling out all the information for their birth certificates!
Luken named his dinosaur "Dino," and I helped Keeley name her kitty "Meowza!"
Waiting patiently for them to be all boxed up!
All set!
And ready to take the new family members home!
After that, we headed over to the carousel for a spin!
Thanks again, Grandma and Grandpa for taking the kids for this fun experience! They love their "bears!" :D