The week of March 15-19 was Spring Break for the kids.
Monday we had a nice picnic at a nearby park and played for hours.
In the later afternoon, we visited the dentist, as the upper front tooth Luken did NOT knock out was discoloring, so we wanted to have it looked over. Good news - it is simply bruised from the impact, and will be just fine until it decides to come out on it's own. In due time, please!! :D
Tuesday, we went roller skating! Keeley and I had gone a few weeks ago, and she LOVED it, so I wanted to let Luken have a chance, too. Silly kiddos - they pooped out after just a little bit, and we spent more time eating and playing at Chick-Fil-A afterwards. Sigh. Oh well... we got to spend a lot of time with our friends, Nina and Hailey, which is always fun!
On Wednesday, we headed up almost all the way to Oklahoma to a small zoo. It was celebrating its late founder's birthday, and offered $1 admission and free cake, woohoo!! It was a lovely day, and we enjoyed all the animals.
Thursday, the kids and I gussied up a bit and headed downtown to visit Daddy for lunch. We took the trolley once again, like we did back in August, before school started. The weather was much more enjoyable this time, and both kids did great on the walk to the office.
Friday, I spent most of the day cleaning up the house. We had been home just enough hours to trash the place, but not long enough to clean up after ourselves, so there was a lot to do. Todd came home early that day, as he and I had plans for a fancy dinner out, which was fabulous, delicious, and had great views!
Anyway, most of those activities were photography-averse, but I did snap some photos at the zoo, so without further ado....
Here is our friend, Hailey, as a giraffe!
Keeley's turn!
Now Luken!
Now, for some REAL giraffes!!
These guys were real characters, and seemed to be dancing to the reggae beat that was playing over the speakers! :D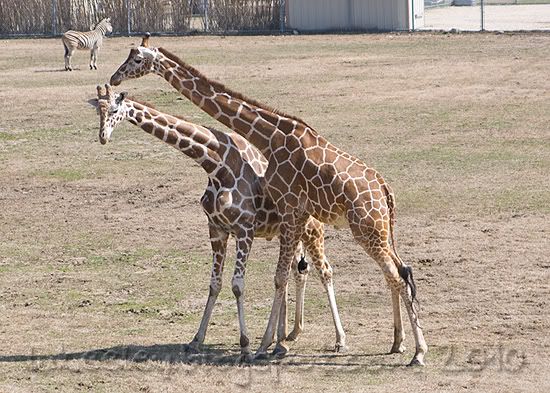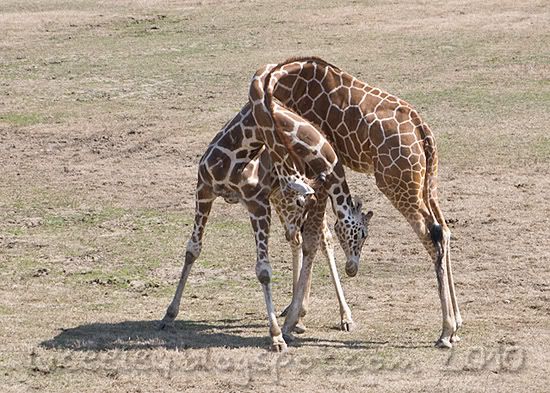 They also had a sort of petting zoo, where the kids could feed some goats and give them pats! They LOVED this part the most! :)
Nina made friends with a deer, and let it lick her fingers. She thought this was cool. I thought it was kind of gross, and pointed her to the nearest hand sanitizer. ;)
Just outside the zoo was a nice little fenced-in park, where we had a leisurely picnic lunch, and the kids played and played and played! Luken and Hailey had great fun under the turtle.
Or maybe not so much fun. Looks like Luken was making an escape! :D
On the way home, we stopped for a nice treat at Sonic, and soon after that, 2 of the 3 kids in the car were conked out! It was a nice, quiet ride home!