By Saturday morning, the snow was beginning to melt, and we hadn't had a chance to build our snowman yet, so the kids and I headed out for a little more fun, while we had the chance. :)
It rolled up remarkably well, and we had no trouble!
I had been inspired by someone else's photos of their Mr. Potato Head snowman, so we dragged ours out, too!
I asked the kids what they wanted to name him. Luken said, "Frosty." Keeley said, "Shaky." So, we settled on Shaky Frosty! (The next one we build will be Frosty Shaky, according to Luken.)
He had celery arms. :D
Recently, Luken expressed an interest in taking photos, so I let him have the use of my old point-and-shoot. He's so cute with it, and takes pictures everywhere, of everything. I will have to put some of his work here for all to see!
Anyway, he wanted snowman pictures, so I thought it would be fun to photograph him photographing the snowman! <3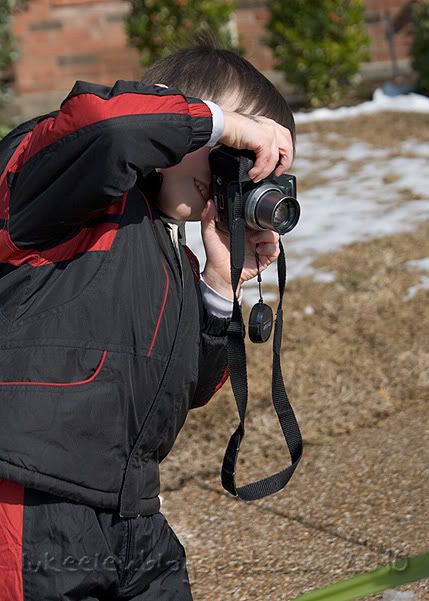 Did I mention that the snow was melting? Melting snow = puddles. Puddles are fun to jump in!!!!
Oh, look, Shaky Frosty has gotten some mittens!! :)
Now he is being targeted by snowballs.
But then being soothed, and loved upon. :D
By then, the kiddos were cold, and ready for hot chocolate!! :P~~
OK, enough snow. Enough cold. We're ready for spring! (But not summer...)
And, just because I snapped these shots, but probably won't create their own blog post, here is some grass that Keeley grew from seed at her school.
It took less than 2 weeks to grow this tall!!!!
And some basil we grew from seed the other day. We're hoping this one grows big and tall and delicious!!