Unlike last year, the Bluebonnets are out in force this Spring, and they are soooooo gorgeous!!! It is wonderful!!
Now, getting two young kiddos to look at the camera at the same time, with nice smiles on their faces is an impossibility, but I still got some beautiful shots.
I've displayed some of the very best here on the blog, but if you want to see the whole lot (at least those decent enough to share, ha ha!) click here for a slideshow of 51 pictures:
http://s84.photobucket.com/albums/k38/lukeeley/2007-04/Bluebonnets/?action=view&slideshow=true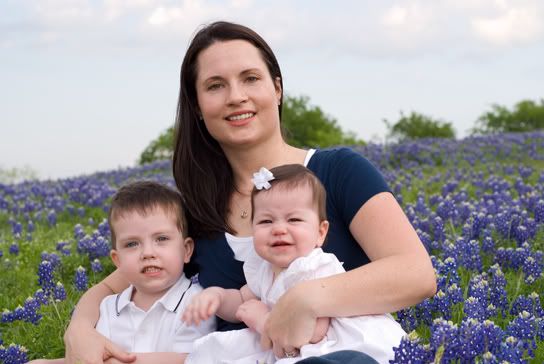 The woman who runs a local Mommy message board I frequent, who is also a photographer, offered her loyal forum junkies some FREE Bluebonnet pictures, so our little family took advantage! We hope she was able to get just ONE great shot of the 4 of us, but I'm not sure the kids cooperated. We shall see...