Phew! I'm having trouble getting to the blog this summer!
Anyway, after we left my sister's place in Pecos, we drove another 9 hours to Scottsdale, AZ. The kids were great in the car - they just watched many movies, and it was even pretty quiet in the car most of the time!
We arrived in Scottsdale around 8pm, and Don and Carol greeted us in the vacation unit, which was like a little 3-bedroom apartment, and a great set-up for us all.
We mostly relaxed and swam on Monday, and on Tuesday, we all packed up into our van and drove down to Tucson for the day!
We arrived at lunchtime, and went to my FAVORITE sandwich place for lunch,
Baggin's sandwiches!
Yum, yum! I ordered my all-time favorite - the Sundown Baggin's, with a Cinnamon-Orange Spiced Iced Tea. Heaven!
Here's a silly picture I snapped when we drove back by on our way out of town later! :D
Here was my lunch!! (Photo from my phone, heehee!)
After lunch we headed to the University of Arizona campus to show the kids where we went to school, and see what's new!
A lot has changed - there are a few funky new buildings (that don't meet the 80% red brick requirement - what gives?), but it is still a stunningly beautiful campus, and it was really neat to be back. Todd and I hadn't been there in about 5 years, and we had never taken the kids there.
It was, of course, ridiculously hot, but we sought shade as we made our way around.
Our first stop was McKale stadium, as Don and Carol have their names in a cement brick out front, and they wanted photos of us all together there. :)
(Yes, I edited out the last name, for privacy.)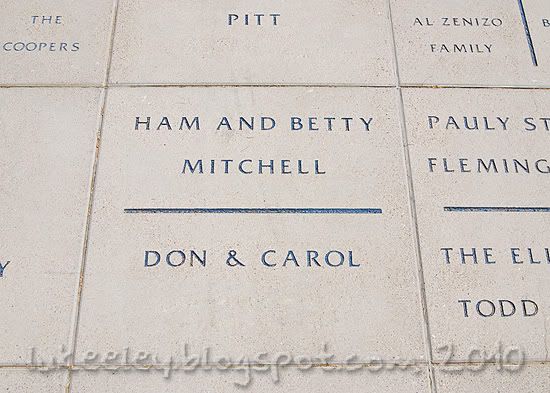 We peeked inside the stadium, also, and watched a basketball camp for kids for a bit. Then we went into the Hall of Champions, which was really neat - a sort of museum for Arizona Athletics, with old uniforms on display, as well as lists of different athletes of accomplishment, like Olympians, professional athletes, etc.
Then we moseyed about campus a bit - Keeley caught a ride on Daddy's back!
From the center of the mall, looking West:
Then East:
Bear Down!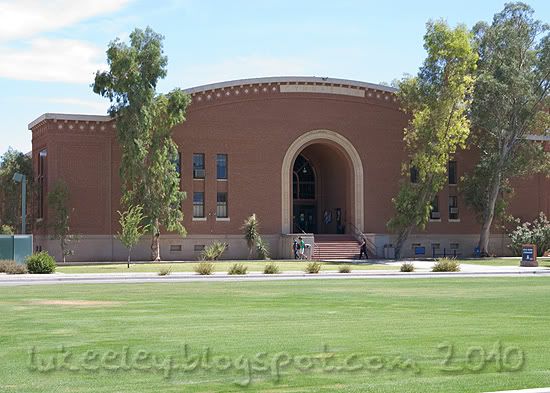 Old Main.
Next, we all got cold treats inside the student union, and then headed to the bookstore for some shopping!!
Our other important stop was to show the kids where Todd and I met!! We were both working for a company that sold geographic data back in 1996, and it was 14 years, almost to the day, when we took these photos!
Of course, that company has long since been sold (it was not called Pomegranate - that's the name of the most recent occupant), and they no longer occupy the building, but we showed the kids, and snapped a few photos for posterity!! <3
It was just inside these doors, and a few feet to the right, where we first laid eyes upon each other! :D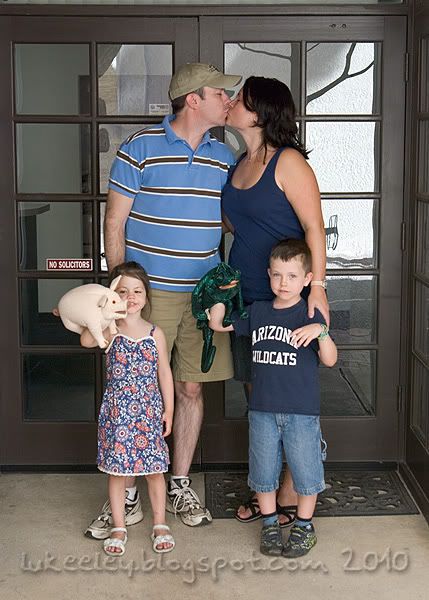 After that, it was time to head back up to Scottsdale.
We did not stay in Tucson long enough to experience a beautiful sunset there, but I had to grab a pic of the magnificent mountains through the windshield, nonetheless.
I miss those mountains!!
See ya later, Tucson!