This summer, we decided to attempt a real road trip. It had been a while since we had been to Tucson, and even though it's REALLY hot there in summer - well, it's hot here, too!! It turned out that Todd's parents could meet us down there, and we ended up sharing a 3-bedroom vacation property unit in Scottsdale.
On our first day, we drove 9 1/2 hours to Santa Fe, NM. We stayed the night there, and in the morning, drove up to Pecos to visit my sister, Karen. We hadn't been to Santa Fe in a long while, either, and she and her husband, Chip, had just moved to a new house on a large piece of land, so it was a nice time to visit.
It's really quite lovely, there, and the dry air was nice!
They have 3 horses, and the kids couldn't WAIT to see them!! :)
Then, they got the oldest one ready to saddle up and ride! (I believe his name is Koshare.)
First, he must be brushed to clear off any pokey things that might bother him under the saddle.
Saddling up!
(This appears to be the only photo that Chip is in, and you can't even see his face - whoops, sorry about that!)
Beautiful face. :)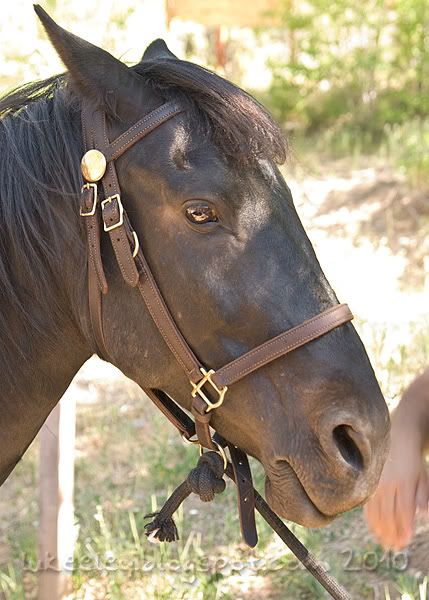 Aaaaaaand.... UP!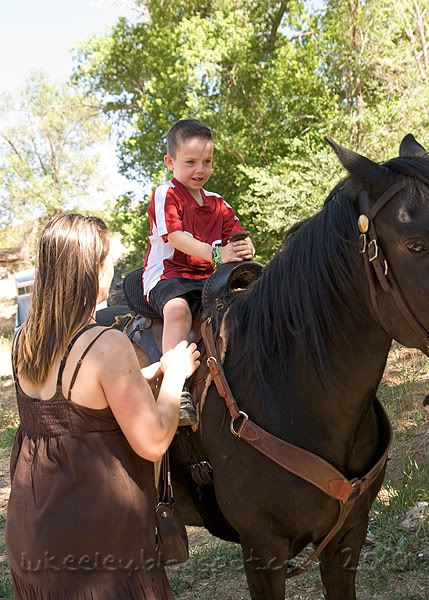 Evidently, he needed to work off a bit of steam, so Karen took him aside for a warm-up.
A moment of stubborn-ness!
He shaped back up, and then it was Keeley's turn!! She was sooooo excited!!
They each got another turn, this time going up the driveway hill and back down again.
Here's a quick video of Keeley riding!
Time for a treat!
After that, we got a tour of the property, including the hay fields. Karen taught us all about the watering processes they go through each day during the summer growing season.
One field is watered with connecting pipes that have to be reconfigured over and over, and are supplied by a diesel pump that pulls water right from the Pecos river, which runs right through the property.
Luken got to start the pump!
Looking out over the field.
After that, we had a nice lunch before it was time to head back on the road!
First, though, a few posed shots!
Karen and the kids:
Then, I asked Todd to take over and I added myself to the group! :)
Thank you for the hospitality, Karen and Chip! The kids REALLY loved getting to ride your horse!!! <3