It's Thanksgiving week, and the kids are out of school. Todd has taken the week off from work, as well, so we have been enjoying some wonderful family time!
On Tuesday, we headed down to Dallas to see the Dinosaurs Unearthed exhibit at the Museum of Nature and Science.
First, though, we had a little picnic next to the lagoon in Fair Park. It was an incredibly beautiful, sunny, mild day, and it was perfect for eating outside!!
The views were beautiful!
After lunch, the kids ran around a bit.
Then, I cajoled them into posing for me for a bit. I thought the ferris wheel made a fabulous backdrop! I only wish I had taken an extra minute to use my flash and show the lovely blue sky...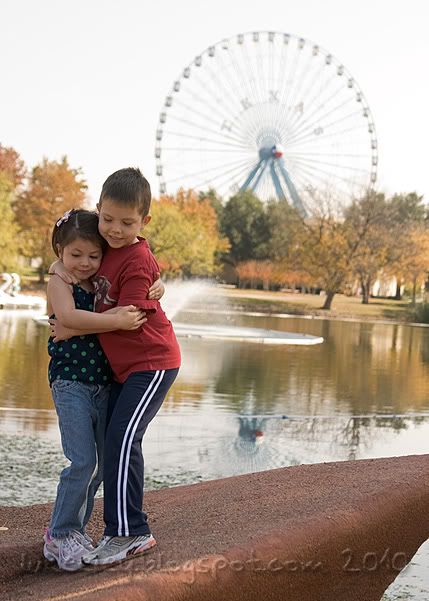 They cooperated nicely, don't you think?? <3
See what I mean about the sky? :D
Inside the entrance to the museum building, there were two dinosaurs on display.
Here's a mean one!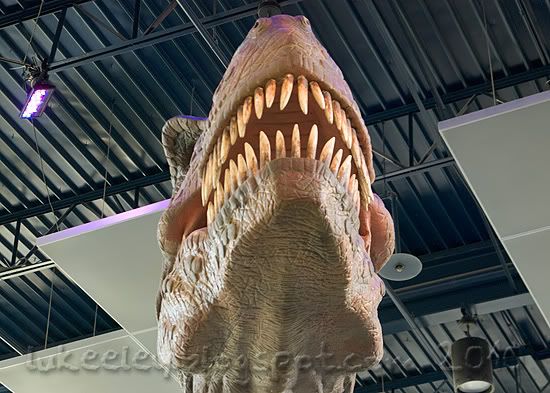 This one doesn't look so mean! ;P
On to the exhibit...
Scary looking prehistoric fish thing!!
The dinosaurs moved around and roared! Several had buttons you could push to animate different body parts!
Little button-pusher. :)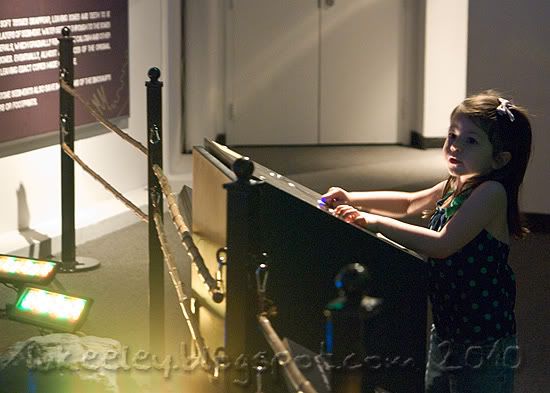 Digging for fossils.
Fitting in a footprint!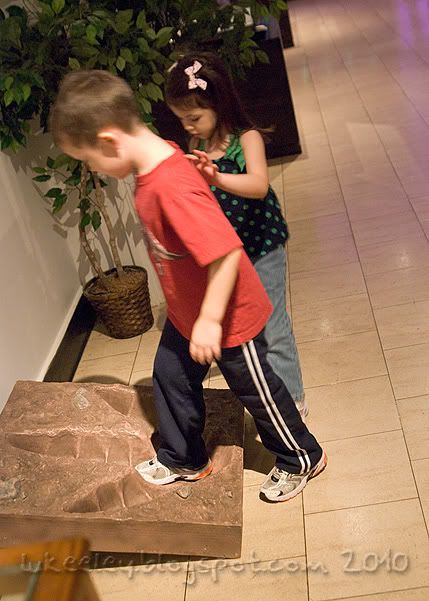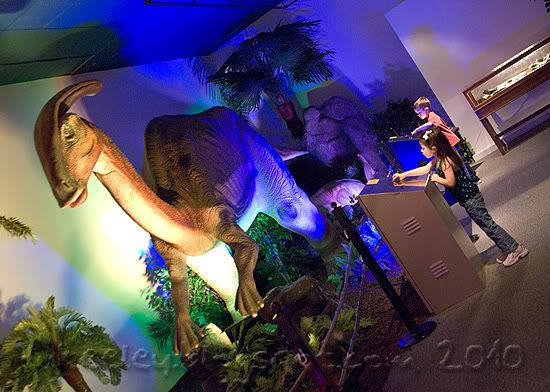 After enjoying the dinosaurs, we headed over to the Children's Aquarium. It has recently re-opened after an extensive renovation, though it is not fully filled up with fishies yet. They are considering this time a "sneak preview."
The octopus has not yet arrived, but we can see where he will live!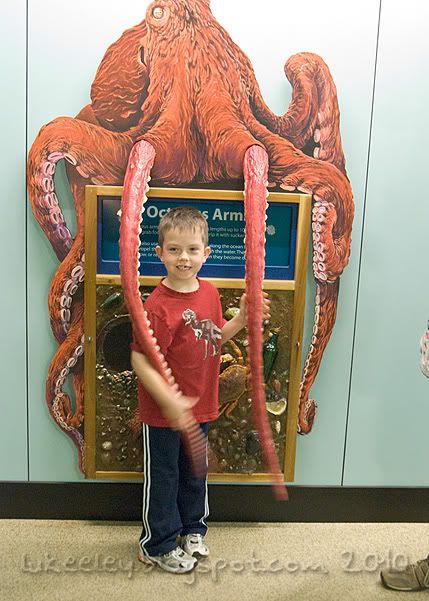 Turtle!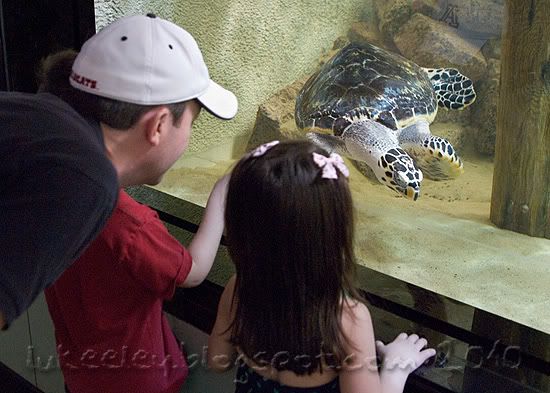 Moray eel!!
Cute little pufferfish!!
There will be jellyfish in this tank. There are dials on either side which will change the color of the lights inside the tank, and the jellyfish will change in appearance accordingly! Fun!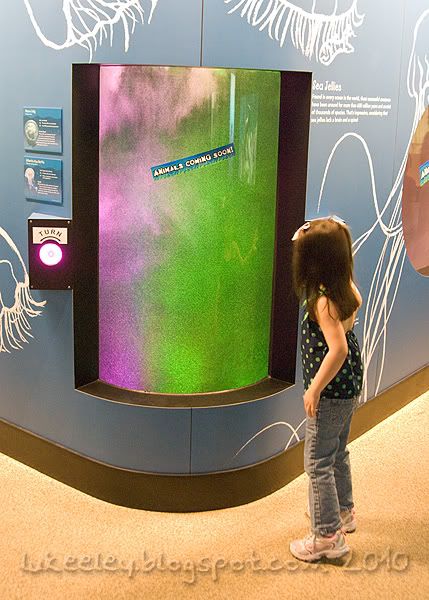 Here's a little interactive display showing how a baby turtle hatches from an egg!
The REAL fun is outside, though! Stingray Bay!
The kids get to hang around a giant shallow-water tank and pet the stingrays! Keeley LOVED this part!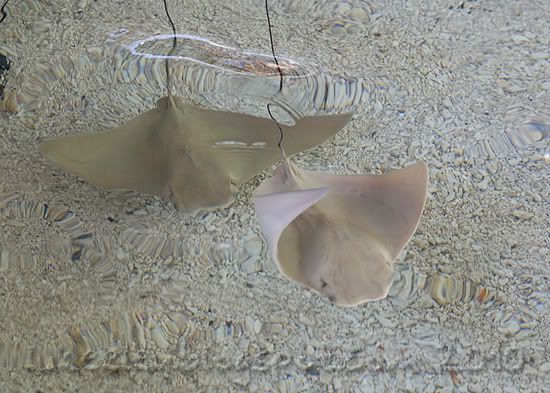 Keeley was SOOO enamored!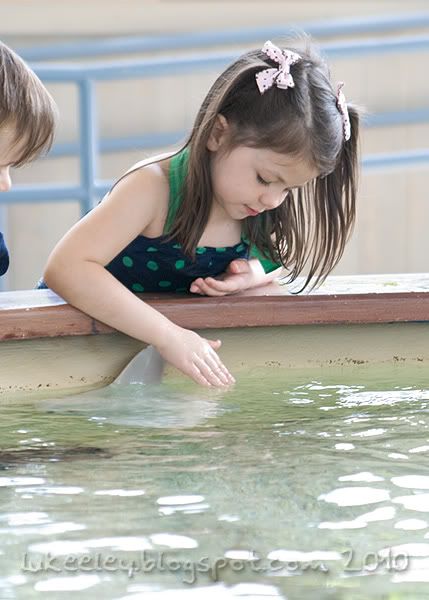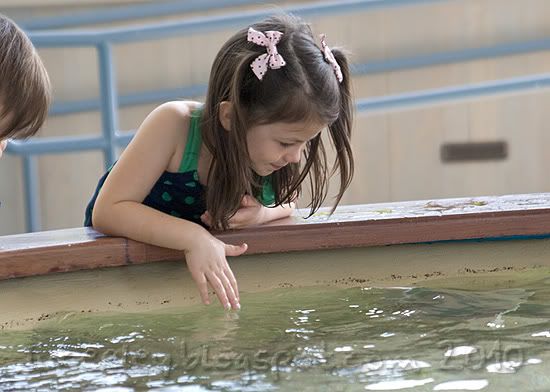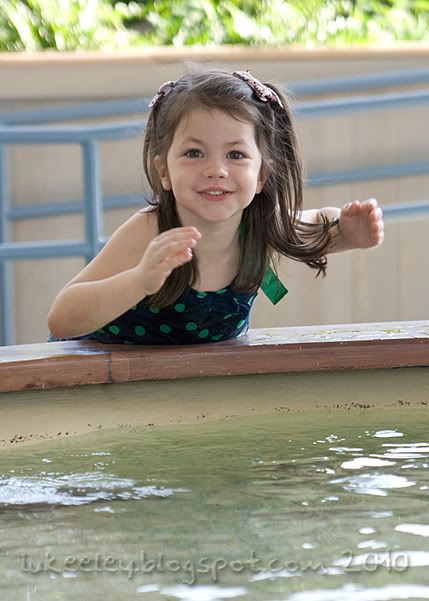 Happy girl!
Right next to the petting tank was a tank full of HUGE rays and other fish!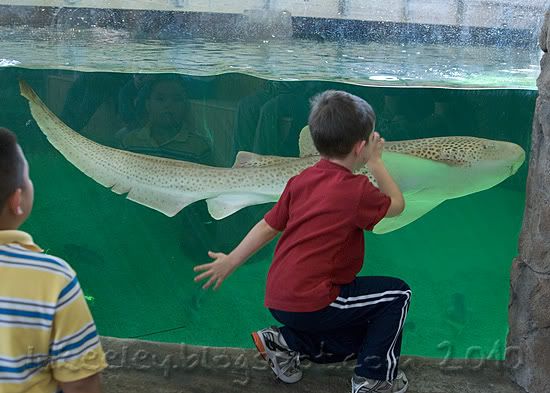 Keeley didn't want to budge, though!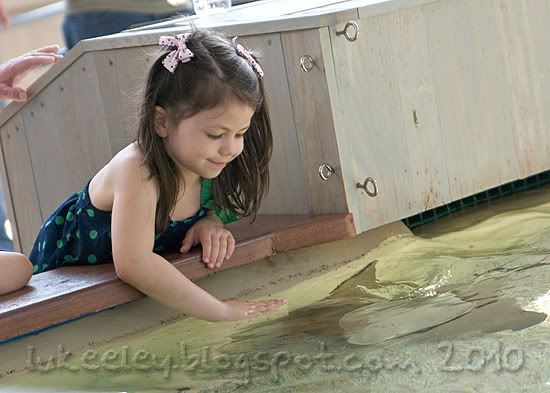 She had lots to say about it!
Then it was feeding time! Keeley was a little too scared to do that, but Luken was happy to do it!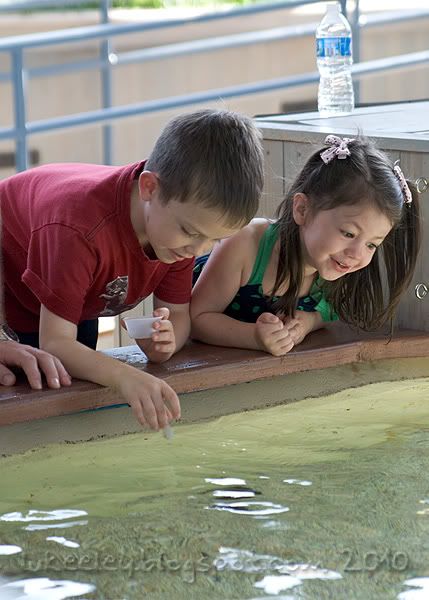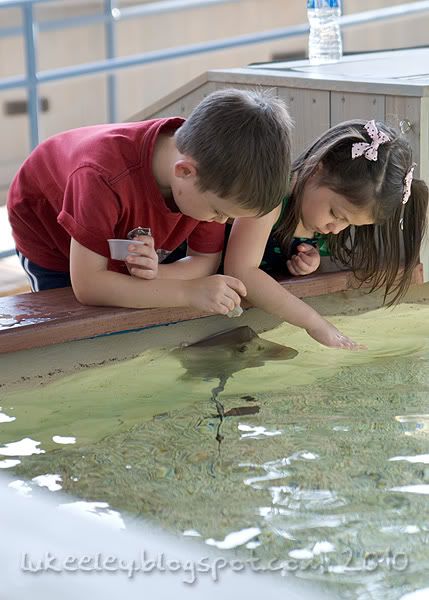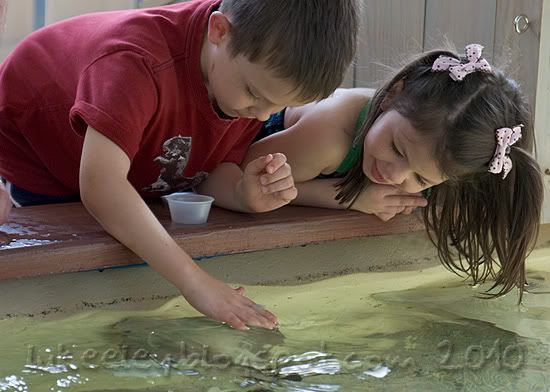 Eventually, we were able to pry Keeley away from her new best friends, but it was not easy!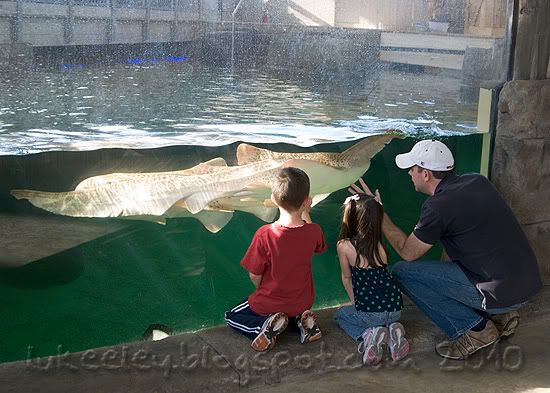 Back inside, we got to watch the feeding of the alligators and the alligator snapping turtle! That was neat!
Daddy and Keeley get up close with an alligator!
On our way back to the car, the kids stopped at the Whisper Dishes, and had a little conversation 50 feet apart!
What fun we had!!